The Western Tour is a combat racing track used in the Kras City Grand Championship during Jak X. Located in the Kras City area, the Western Tour is one of the four larger tour tracks in the championship. The track starts at the Dethdrome, where it will actually stay for half of the entire course, eventually splitting off and entering the Loading Docks (using part of the track from Seaport Strip), which it shortly leaves behind again to enter part of Waterfront Loop, immediately followed by the Kras City section of the tour. The route does not stay here for very long either as it heads back onto the Waterfront Loop, the race then ending quickly after it reaches the Loading Docks again.
Description
Edit
As the tour takes place on the Dethdrome one should keep in mind to use a car that can reliably take the wide open road to its advantage and potentially gain a large lead. One will need to rely on the booster eco pick-ups and pads laid out on the asphalt. After a while you enter a tunnel which ends in a ramp, leaving you at the Loading Docks. None of the more deadly sections and turns are visited however, as only four corners later the sea-side street from Waterfront Loop comes into view, which is shortly followed by the streets of Kras City.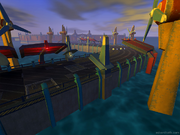 As with the Waterfront Loop track the shortcut is not available this time, so take either the left or right path the tour will propose to you. When the paths merge again and you cross the bridge the road leaves Kras behind, entering the beginning section of the Loop track. This is short-lived as well, as the finish line appears a little bit afterwards: in front of the large ramp right after re-entering the Loading Docks again.
Race event information
Edit
Game mode
Eco cup
Race event
Medals req.
Bronze goal
Silver goal
Gold goal
Lap limit
Time limit
Adventure mode
Green Eco Cup
Circuit race
47
Rank 3rd
Rank 2nd
Rank 1st
1
None
Blue Eco Cup
Circuit race (Grand Prix)
50
Rank 3rd
Rank 2nd
Rank 1st
1
None
Exhibition mode
Circuit race
Rank 3rd
Rank 2nd
Rank 1st
1
None
Time trial
4:30:00
4:10:00
3:50:00
1
None
Ad blocker interference detected!
Wikia is a free-to-use site that makes money from advertising. We have a modified experience for viewers using ad blockers

Wikia is not accessible if you've made further modifications. Remove the custom ad blocker rule(s) and the page will load as expected.