Seaport Strip is a combat racing track used in the Kras City Grand Championship during Jak X: Combat Racing. A combination track consisting of the Loading Docks and Dethdrome courses, it features both the tight corners and container-filled docks as well as the smooth and spacious asphalt road leading through Kras City's outskirts. It is one of the few tracks in the game to feature incoming freight trains that pose a threat to racers on the track.
Description
Edit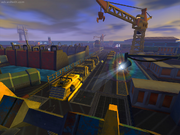 Beginning somewhere in the midst of the Loading Docks track, it starts off easy but will quickly divide the racers as they head into the section with passing freight trains. Large and slow, they will not budge when hit and if done so head-on, a crash is nearly guaranteed. Use the lanes between them to stay safe, but watch for defensive weapons deployed in front of you, or on the other hand, any armed racers from behind. Enter the tunnel with the red lights ahead which is where the track splits off and leads into the Dethdrome portion.
The Dethdrome track is rather uneventful. The faster race cars excel here and you should make good use of the turbo boost pads on the road. After some smooth curves and easy driving, you will eventually enter a similar kind of tunnel you used earlier. This one ends in a large ramp, which launches you back to the finish line in the docks.
Race event information
Edit
Game mode
Eco cup
Race event
Medals req.
Bronze goal
Silver goal
Gold goal
Lap limit
Time limit
Adventure mode
(hero mode)
Red Eco Cup
Circuit race
6
Rank 3rd
Rank 2nd
Rank 1st
2
None
Blue Eco Cup
Turbo dash
14
Rank 3rd
Rank 2nd
Rank 1st
None
3:00
Death race
48
200
(240)
220
(260)
240
(300)
None
3:00
Yellow Eco Cup
Rush hour
4
420
(500)
460
(525)
500
(550)
None
3:00
Exhibition mode
Circuit race
Rank 3rd
Rank 2nd
Rank 1st
2
None
Death race
200
220
240
None
3:00
Freeze rally
2:40:00
2:30:00
2:20:00
2
None
Rush hour
420
460
500
None
3:00
Time trial
2:10:00
2:00:00
1:50:00
1
None
Turbo dash
Rank 3rd
Rank 2nd
Rank 1st
None
3:00