The Loading Docks comprise a combat racing track used in the Kras City Grand Championship during Jak X: Combat Racing. Although it is known as a "rough part of town",[1] it is one of the easier tracks in the game, with relatively short length (three laps for the circuit race) and few difficult sections. It leads solely through an actual loading docks and transit zone of Kras City, a landscape surrounded by water. Shipping containers define the boundary for the majority of this course. It is also one of the few tracks in the game to feature incoming freight trains that pose a threat to racers on the track.
Description
Edit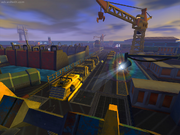 The track takes off quickly with large ramp sporting booster strips that show up very soon after the starting line and a subsequent right turn. [a] The road then leads into a sharp corner, which heads right into a hairpin turn. Following a handful of wide, easy turns and a cut through a warehouse is the last real obstacle: a separate set of rails for passing freight trains. [b] These large yellow hazards are slow, but have the durability of a wall, meaning that driving into one at high speed nearly guarantees a crash. There are at least three very tight lanes between the boundary and the trains, so take care of mines and etc., as switching lanes will be a dangerous endeavor due to the passing freight trains.
After exiting the lanes, steer clear of the right side as another might come up out of the tunnels, though the danger passes when you head into the left passage leading into a different tunnel. Once in the tunnel, the course will make a left turn. [c] Then it will exit it and become wide and spacious once more, taking you through several more relatively easy corners and eventually forcing you to drive down a sudden cut-off to end up at the finish line.
↑ The Waterfront Loop track is visible on the left but blocked with a barrier.
↑ Just before entering the warehouse, the same as a is true here too but on the right.
↑ The Seaport Strip track is visible on the right but blocked with a barrier.
Race event information
Edit
Game mode
Eco cup
Race event
Medals req.
Bronze goal
Silver goal
Gold goal
Lap limit
Time limit
Adventure mode
(Hero mode)
Red Eco Cup
Death race
1
30
(210)
70
(260)
110
(310)
None
3:00
Turbo dash
42
Rank 3rd
Rank 2nd
Rank 1st
None
3:00
Blue Eco Cup
Circuit race
25
Rank 3rd
Rank 2nd
Rank 1st
3
None
Exhibition mode
Circuit race
Rank 3rd
Rank 2nd
Rank 1st
3
None
Death race
30
70
110
None
3:00
Freeze rally
2:30:00
2:10:00
1:50:00
2
None
Rush hour
300
350
400
None
3:00
Time trial
1:25:00
1:20:00
1:15:00
1
None
Turbo dash
Rank 3rd
Rank 2nd
Rank 1st
None
3:00
References
Edit