Glacier Alley is a combat racing track used in the Kras City Grand Championship during Jak X: Combat Racing. It is one of the longer tracks in the game, consisting of only one lap for the circuit race. It is the only medley track that is not made up of two pre-existing tracks, and instead approximately the first quarter of the alley is original on its own, followed by the original portion of Timberline Track except in reverse. After this you drive through the two tunnels and uninhabited frozen tundra featured in the Mountaintop Highway.
Description
Edit
The Glacier Alley has some wide open routes and plenty of straightaways, so a fast and light race car is recommended. For the first part of the track you will be forced to pick left or right as the road splits, though the only difference between them is the available eco pick-ups, which change with each race event. Immediately afterwards is a large ramp with booster pads, followed by two more splits and three booster-less drops off a small height. Keep your speed to avoid falling into the ice cold waters below. Keep on driving until you approach a sharp right turn.[a]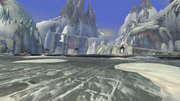 The following portion is normally a split part of the Timberline Track, but for now you travel through it in reverse, only one path being available. Enter a tunnel up ahead and continue until you see bright blue crystals, indicating the start of the Mountaintop Highway area. Watch out for a large pit coming up on your left near the end of the cave. The remainder of the track consists of another narrow tunnel and a few easy straightaways until the finish line.
Race event information
Edit
Game mode
Eco cup
Race event
Medals req.
Bronze goal
Silver goal
Gold goal
Lap limit
Time limit
Adventure mode
Green Eco Cup
Circuit race (qualifier)
34
Rank 3rd
Rank 2nd
Rank 1st
1
None
Exhibition mode
Circuit race
Rank 3rd
Rank 2nd
Rank 1st
1
None
Death race
60
90
120
None
3:00
Freeze rally
3:50:00
3:35:00
3:20:00
2
None
Rush hour
300
350
400
None
3:00
Time trial
3:00:00
2:50:00
2:40:00
1
None
Turbo dash
Rank 3rd
Rank 2nd
Rank 1st
None
3:00