The distillery is a location featured in Daxter. It is situated below Haven City, within the city's Port sector, and was seemingly used as a means of manufacturing wine, possibly related to the brewery in the Industrial Section. The distillery appeared to be abandoned by humans due to the metal bug infestation, though its machinery was still operational.
Though the distillery was not mentioned at any point after the events of Daxter, the elevator shaft used to navigate to it in the game is located within a small building also present in Jak II.
In exchange for giving Daxter the flamethrower attachment, Taryn requested that he complete extermination jobs in the distillery and fish cannery, in the missions "Collect 40 gems (distillery)" and "Collect 40 gems (fish cannery)", respectively, saying that "the city port is a mess".[1] The distillery was otherwise unrelated to the game's events.
Geography
Edit
The distillery is accessed via an elevator, the shaft of which is housed by a small building along the sidewalk of the Port. After arriving to the Port from the Industrial Section, this building is located across the way to the left. The first room appears to act as a maintenance room, with an observatory window and a large conveyor belt up above. The rest of the area consists of several rooms, halls, and facilities that are mostly derelict, with collapsed flooring, unsteady rafters and wall supports, crooked flooring, and a large amount of dust and cob webs, suggesting the place has been abandoned for a while. The area is largely mechanical, though it has been built into rock and dirt, which is exposed in many places.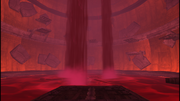 Deep into the distillery is a small room linked to a very large liquid chamber. This room contains several valves, pumps, and seemingly steam-based mechanics, and would appear to act as a control room for the chamber. The chamber itself has a massive mixer at the bottom with tons of wine being poured into it. Upon entering the room the liquid levels will swiftly rise. Ahead of this is an area that acts as an elaborate track system for wine casks. This section of the distillery ends at an elevator destined for the Port.
References
Edit